Create Your Own Landscape Painting Prompt Cards
Learn to paint 3 landscape paintings, convert them into cards & add inspiration & creativity to your daily art practice!
Are you someone who loves painting landscapes but sometimes find yourself stuck in a creative rut & can't figure out what to paint?
Do you ever feel tired after looking at pictures on social media, hoping to get some ideas?

If you've ever felt like this, don't worry! Many artists face the same problem. They want to paint but don't know what to paint. The ebb and flow of artistic inspiration is a common challenge for artists of all levels, and it's a struggle that can leave us feeling mentally exhausted and unable to put brush to canvas.
That's where this online course comes in. I have a fun solution that will help you get new ideas and keep your creativity flowing.
In this course, I'm going to teach you how to make prompt index cards that will give you ideas for your landscape paintings.
By the end of the course, you'll have hundreds of ideas to create beautiful landscape paintings and never run out of ideas again.
Here's what you can expect:
Art and Ideas: In this course, you'll enjoy painting landscapes and finding new ideas. It's like a mix of having fun and getting inspired.
Meet Your Teacher: Your teacher, Debasree, is a great artist from India. She loves landscapes, and she's going to show you how to be creative.
What We'll Do: You'll start by making three different landscape paintings. These paintings will be the basis for your idea cards.
Not Just Paintings: We'll also make cool wallpapers using extra paint on palette. These wallpapers will make your card boxes look amazing.
Daily Ideas: Imagine picking one card or set of cards every day. The cards will give you a new idea for a painting. You'll never run out of things to paint.
When you finish this course, you'll have beautiful cards that help you get painting ideas. 
You'll also feel excited and full of ideas for your artwork.
If you love painting landscapes but sometimes can't find ideas, this class is perfect for you. Get ready to be creative and have fun with your art.
Click the button to join the course, and let's get started. Welcome to "Create Your Own Landscape Painting Prompt Cards"
enroll now & start Learning today
Step 1 - Learn to Create 3 beautiful paintings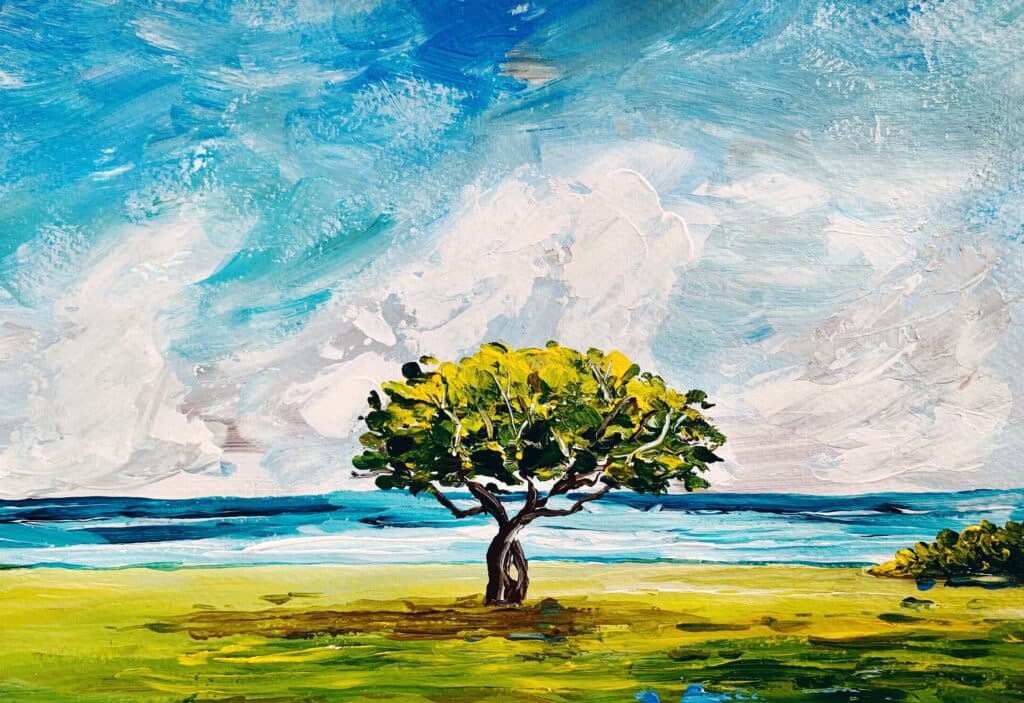 Step 2 - convert them into prompt cards
Step 3 - learn to create Texture Papers
(from leftover paints after the first 2 paintings)
Step 4 - learn to create card boxes
What will students learn in this course?
1. Landscape Painting Techniques: Students will acquire fundamental techniques and skills to create beautiful landscape paintings. We will cover various methods of applying acrylic paint to capture the essence of landscapes effectively.
2. Idea Generation: One of the core elements of this course is learning how to generate ideas for landscape paintings. Students will discover strategies for overcoming creative blockages and finding inspiration in their surroundings.
3. Creation of Landscape Prompt Cards: Students will learn to transform their landscape paintings into prompt cards. These cards will serve as a constant source of inspiration for their future artwork, helping them maintain a steady flow of new ideas.
4. Texture Creation: The course delves into creating textured wallpapers using leftover paint. These textures will not only enhance your prompt cards but also add a unique dimension to your artwork.
5. Card Holder Craftsmanship: You'll explore how to make card holders to store and organize your landscape prompt cards, ensuring they remain accessible and well-protected.
6. Artistic Creativity: Beyond technical skills, this course encourages the development of your artistic creativity. You'll learn to think outside the box, experiment with different styles, and create landscapes that tell unique stories.

7. Confidence Building: Throughout the course, you'll build confidence in your artistic abilities. As you complete each painting and prompt card, you'll gain a sense of achievement and self-assurance.
enroll now & start Learning today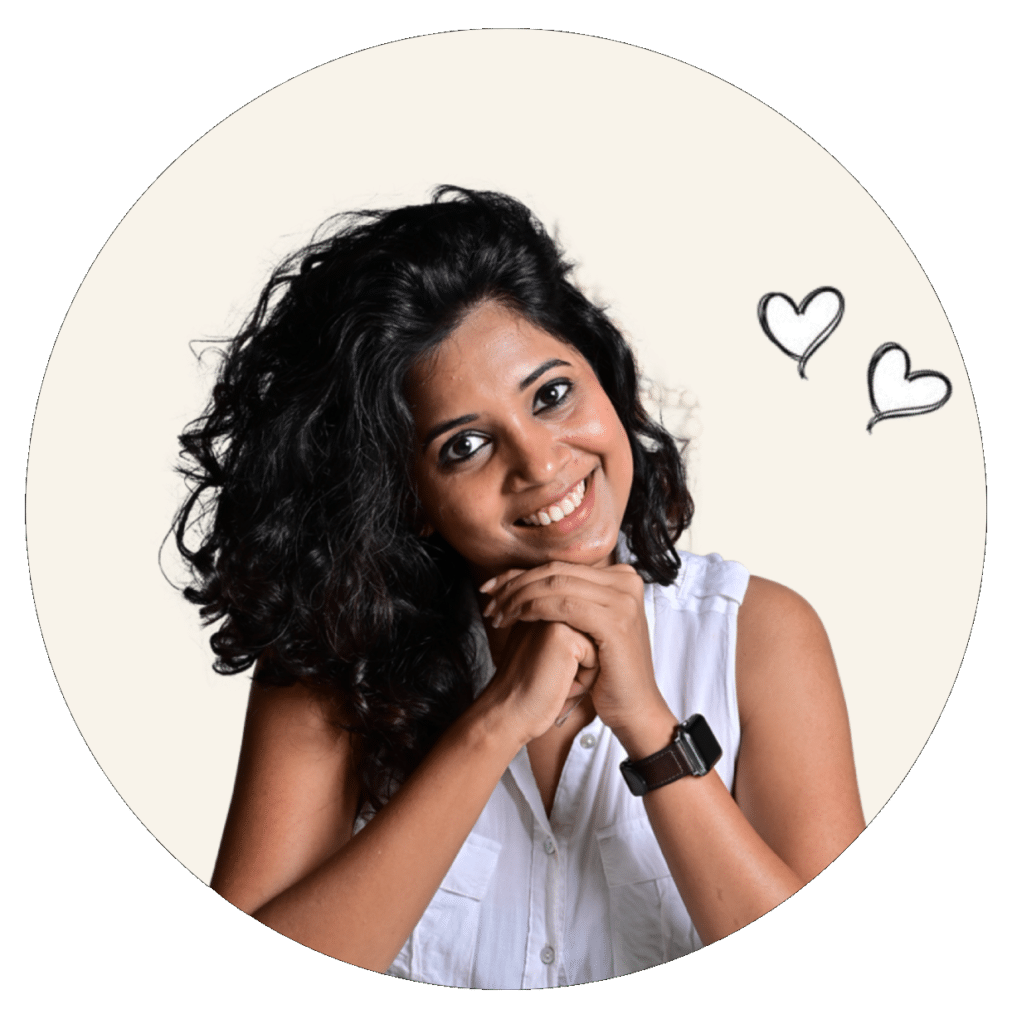 I'm an explorer, a creator, an artist who is inspired by nature to create art.
Becoming an artist wasn't a conscious decision, but life had it plans to alter my direction from being a corporate IT career to a fine artist and an educator.
My life's work is to help you come out of your inhibition and feel the freedom of painting even if you 'think' you can't paint!
Learning a few art skills is only the starting point.. it's all about the journey that you experience on the inside while painting.
What are the prerequisites for taking this course?
1. Basic Acrylic Painting Knowledge: While not mandatory, having some prior experience with acrylic painting will be helpful. If you're a complete beginner, you may want to explore introductory acrylic painting tutorials or courses to familiarize yourself with the medium.
2. Art Supplies: To fully participate in the course, you'll need essential art supplies, including acrylic paints, brushes, canvas or painting paper, palette knives, and a palette. A list of required materials will be provided in the course materials before you begin.
3. Creativity and Enthusiasm: The most important prerequisite is a passion for art and a strong desire to explore your creativity. The course is designed to inspire and encourage your artistic expression, so bring your enthusiasm!
4. Open Mind: Be open to experimenting with new techniques and ideas. The course will encourage you to step out of your comfort zone and try innovative approaches to landscape painting.
5. Patience and Persistence: Creating art takes time and practice. Patience and a willingness to persevere through the creative process are essential qualities for successful artists.
6. Computer and Internet Access: You'll need a computer or device with internet access to watch course videos, access materials, and engage with the course platform.
Supply List for this course
1. Acrylic paper / water color paper
2. Acrylic paints
3. Paint brushes
4. Palette Knife
5. A plate for color mixing
6. Card board or thick paper
7. Corner Puncher
8. Glue
9. Scissor
10. Cutting Knife
11. Access to printer
12. Printer paper / old book paper
13. Deli paper
14. Tissue paper
15. Ruler 
1. Beginner Artists: If you're new to the world of acrylic painting, this course provides an excellent introduction to the medium while helping you overcome creative blockages and build your confidence as an artist.
2. Intermediate Artists: Intermediate artists seeking to enhance their skills, explore new techniques, and generate fresh ideas for their landscape paintings will find this course valuable.
3. Experienced Artists: Even seasoned artists can benefit from this course by adding a new tool to their creative toolkit. The prompt card concept can bring renewed enthusiasm to your practice.
4. Art Enthusiasts: You don't need to be a professional artist to enjoy this course. If you have a love for art and a desire to explore your creativity, this course is for you.
5. Creative Individuals: This course is not limited to painters. Writers, photographers, and individuals from various creative disciplines can adapt the concept of prompt cards to their own practices.
6. Those Seeking Inspiration: If you've ever struggled with creative block or difficulty finding inspiration, this course offers a unique solution to ignite your creativity and keep it burning.
7. Art Educators: Art teachers looking for innovative ways to inspire their students and incorporate creative idea generation into their lessons can find useful tools and techniques in this course.
more ways you can be a student!