The beauty of the moonlight reflecting on the ocean water in the night – a sight to behold. In this blog, let us learn to paint this easy moonlight seascape painting. 
It is a very easy acrylic painting, so just follow along with the steps and paint on your own.
At the end of this blog, I've a video showing the entire process of this painting. So in case you need more help, refer to it while painting!
MATERIALS YOU NEED
Acrylic Colors:  
Aqua Green
Ultramarine blue
Crimson Red
Surface:
I painted on a 4×5 inches acrylic paper.

Cut this Canson acrylic paper into 6 equal pieces and you'll get the size I used.
Acrylic Brushes:
I used a size 4 flat brush from this flat brush set which is perfect for this canvas size. If you are painting bigger, then switch to a size that is proportionate with your painting surface.
Size 4 liner brush from my favorite miniature brush set
Pin the below image in your Pinterest board for future reference.
Start by painting the sky background, by blending aqua green with ultramarine blue.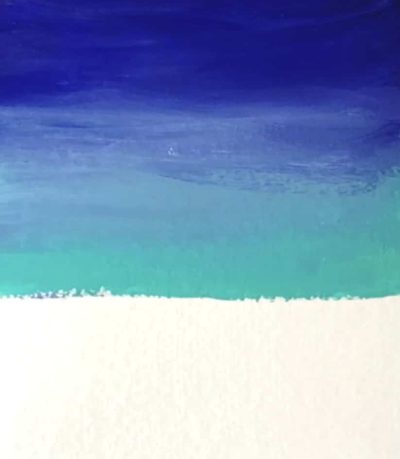 First let us cover the entire background of this moonlight seascape painting. So blend in some white with ultramarine blue and cover the ocean area. Make sure to blend in from light to dark.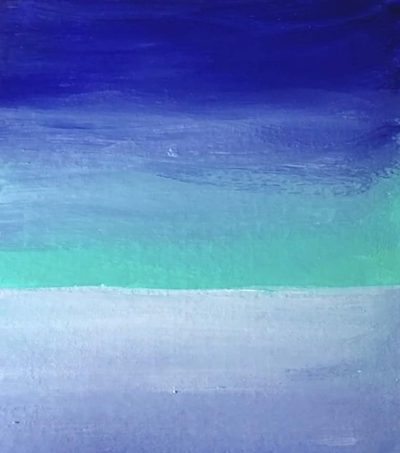 Now let us get back to the sky and add some dramatic clouds. Mix crimson lake with ultramarine blue to create some purple. You can use purple straight out of paint tube as well. Mix with some white and start adding curvy horizontal strokes to create the dramatic clouds textures in the moonlight sky.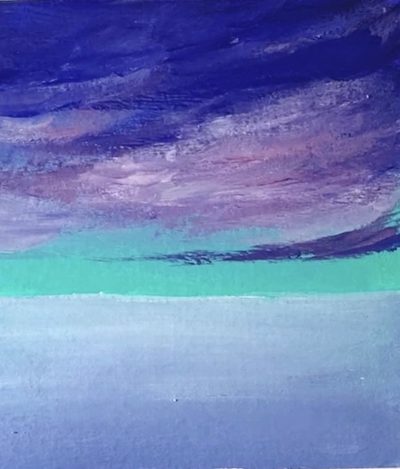 Continue creating the dramatic clouds with layers built upon layers and finally blend it in with the light blue background color. Add some dark shades of purple towards the underneath of the clouds to create some cloud shadows.
Add some bright blue in the centre of the ocean and blend it with some dark shades on the side. This highlight area of the ocean is going to reflect the moonlight from above.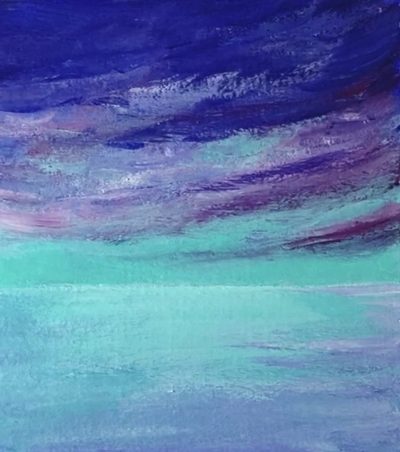 Add the moon reflections on the ocean water by adding small horizontal strokes.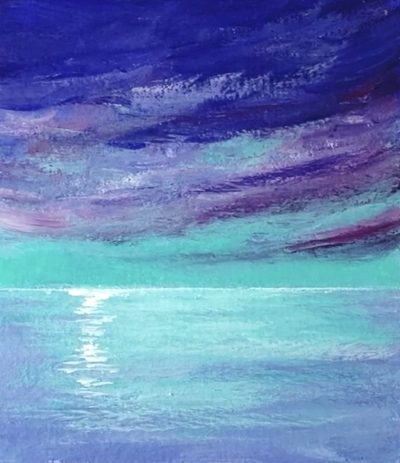 Let's bring in the hero of the painting – the moon in the night sky. Add a small circle with white to create the moon. Make sure to add it just above the reflections.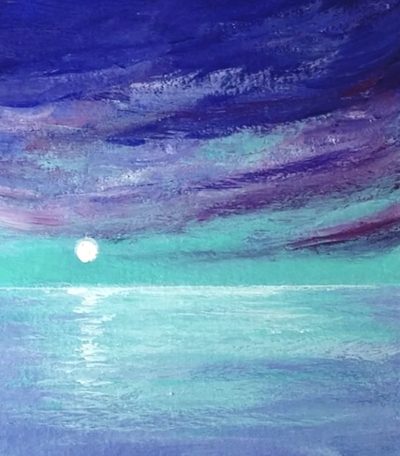 Now add the palm tree using black and a fine liner brush.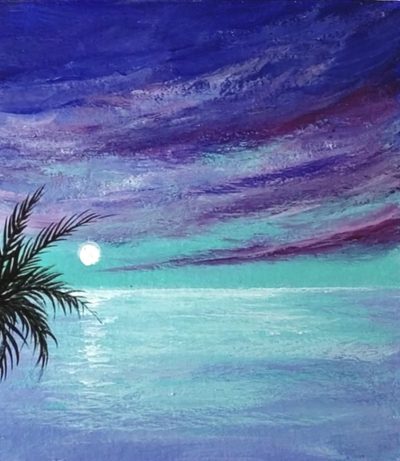 Add more palm leaves on either side to complete this moonlight seascape painting.
And that's it… just by following these 9 steps, you can now created your very own moonlight seascape painting. 
Did you enjoy following this tutorial? What is the next painting you want me to teach? Let me know how it turned out for you by commenting below!
Happy Painting!
Pin the below image in your Pinterest board for future reference.
If you need more guidance, watch my process here: