Winter is here. So no wonder you are looking for some easy winter landscape painting to celebrate the beauty of the season.
In this step by step tutorial, you will learn to paint an easy yet gorgeous winter landscape with snow pine trees and snow falling all over. 
You can create this as a practice piece in your art sketch or do it on a big canvas and add to your home decor – the choice is yours. However I recommend that you first try it out in a sketchbook where you can paint without the fear of making mistakes and then paint it on a canvas.
Also if you want to learn how to paint perfect snow pine trees with acrylics, refer to my 6 step process of creating a snow pine tree. Ok so let's get started..
PS. Wana learn more? Check out the comprehensive acrylic painting course on "How To Paint Snowy Pine Trees" covering 9.5 hours of instruction and inspiration!

MATERIALS YOU NEED
4 Acrylic Colors:  
Surface:
I painted on a 4×5 inches acrylic paper.

Cut this Canson acrylic paper into 6 equal pieces and you'll get the size I used.
Acrylic Brushes:
I used a size 4 flat brush from this flat brush set which is perfect for this canvas size. If you are painting bigger, then switch to a size that is proportionate with your painting surface.
Size 4 liner brush from my favorite miniature brush set
1. start with the Sky colors
The first 3 steps are about acrylic blending. We need to blend in 3 colors – prussian blue, white and viridian hue in the right way to create a foggy winter background. Start by mixing tiny bit of blue & green, along with lots of white, and you will get a color like this.
2. Lighten the background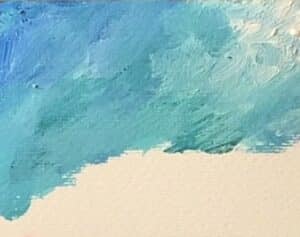 In step 2, add more white from top right corner and start blending it with the rest of the colors previously added. Don't blend too hard, move your brush gently to form a rough blend.
3. create contrast in the sky
In step 3, start adding some prussian blue from top left to create a contrast. The right is lighter shade, which is balanced by strong blue on the left. Then blend it in with rest of the background.
Pro tip: I did not add the raw prussian blue here because it is a very high pigmented color. So I mixed it with white and made it a shade lighter.
4. snow land on the right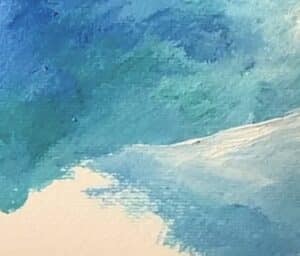 In step 4, we start painting the snow land by adding lots of thick body white acrylic paint. 
Pro tip: Do not wash your brush in the previous step. Just wipe it off to get rid of the max paint. Then paint the white and gradually press to bring in the leftover sky colors.
Since the land on the right is at a distance, we painted it first. Now in step 5, paint the snow land using the exact same procedure from the left. Blend in the colors with the background.
Now is my most favorite step of painting snowy pines. Check out the 6 simple steps of painting a snowy pine tree. If you are painting on a big surface, you need to follow the techniques of painting a snow pine tree using one of the big brushes – flat brush, filbert brush or a fan brush. But here since I'm painting on a small surface, I'll use the technique 2 of small round brush.
Using just black, I painted the outline, the branches and the textures in this step.
In this step, I added more trees and started adding a layer of highlight (step 5) using blue and white. 
8. Add highlights to the tree
Next I added more highlights (step 6) with even lighter shades of blue and white.
In step 9, I sprinkled watery white paint from my small round brush. You can see the clear round dots formed by the sprinkling.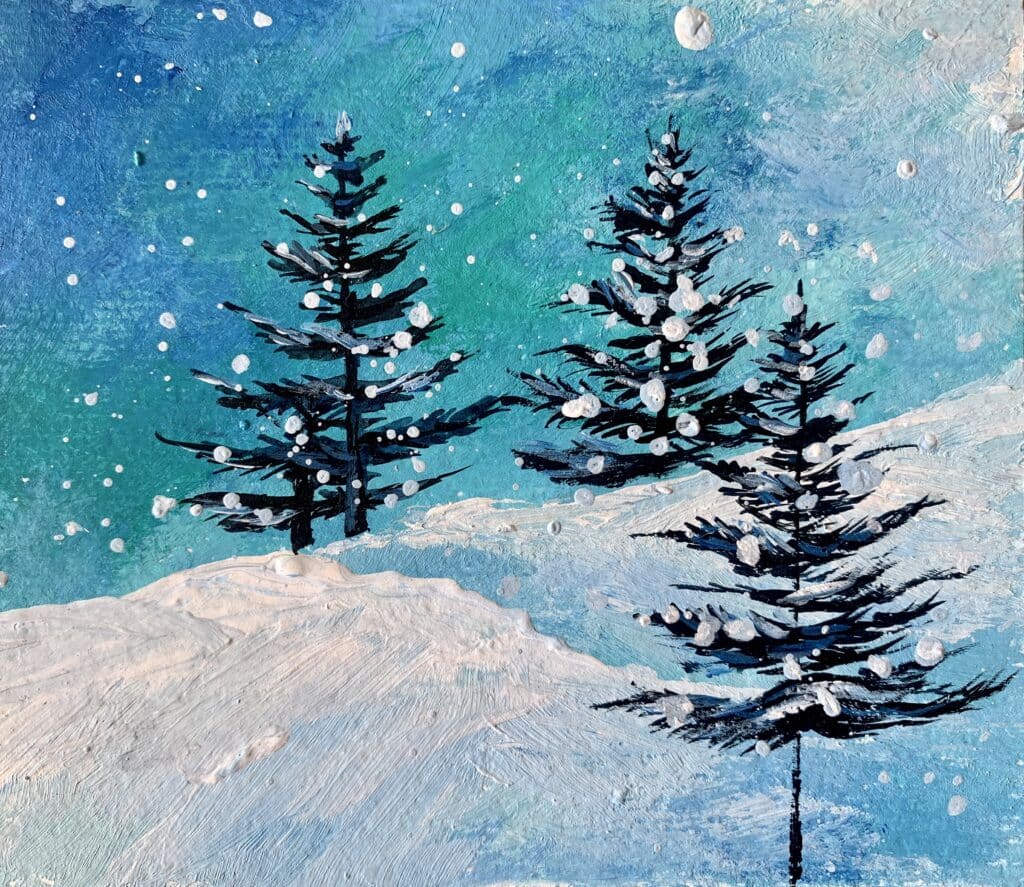 In the last and final step, use the tip of your liner brush to give some weird shape to the perfect round dots formed in the previous step, to make your painting look more realistic.
And that's it… just by following these 10 steps, you can now created your very own winter landscape painting with snowy pine trees. 
Let me know how it turned out for you by commenting below!
If you liked this easy winter landscape painting, please pin the below image on Pinterest !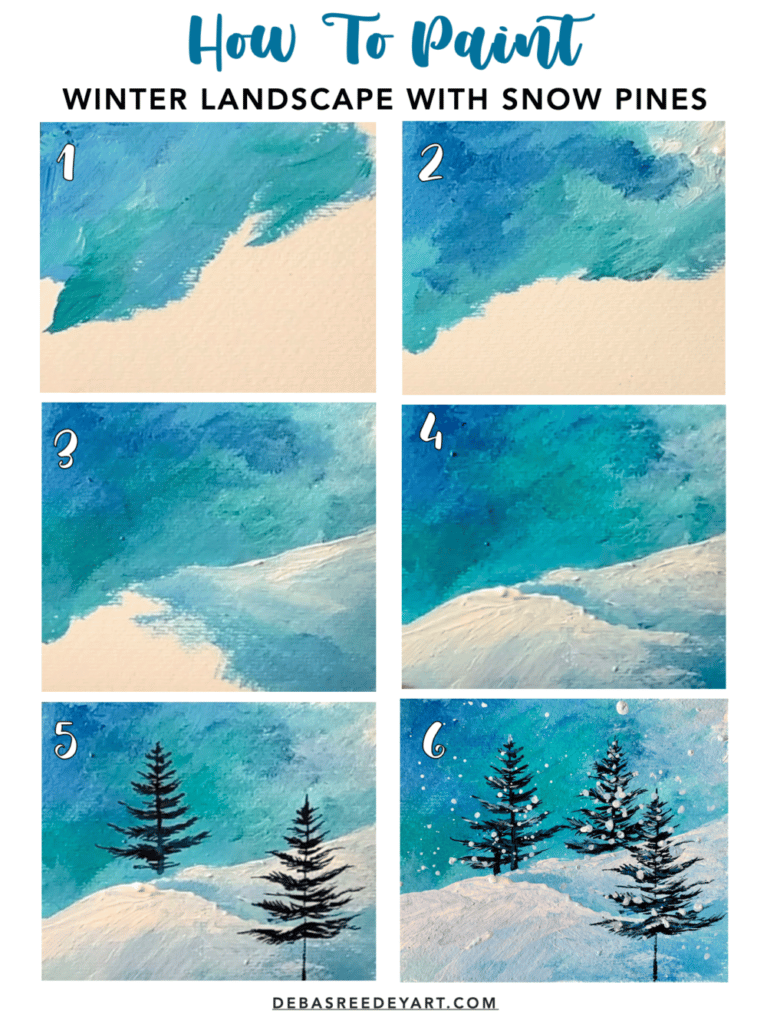 If you need more guidance, watch my process here: