Looking for some easy spring painting ideas? 
Hello and welcome to another easy acrylic painting tutorial where we learn to create an easy spring painting with vast green spring meadow with bright blue sky, using acrylics.
This tutorial is perfect for beginners who want to follow and paint along with me. And if you are a pro, you can also paint along and create this spring beauty!
 If you want to watch the process of my creation, there is a video available at the end of this post.
So grab your acrylic art supplies, and let's jump right in.
MATERIALS YOU NEED
Acrylic Colors:  
Cadmium Yellow
Light olive green
Viridian hue
Cobalt blue

White
Surface:
I painted on a 4×5 inches acrylic paper.

Cut this Canson acrylic paper into 6 equal pieces and you'll get the size I used.
Acrylic Brushes:
I used a size 4 flat brush from this flat brush set which is perfect for this canvas size. If you are painting bigger, then switch to a size that is proportionate with your painting surface.
Size 4 liner brush from my favorite miniature brush set
Pin the below image in your Pinterest board for future reference.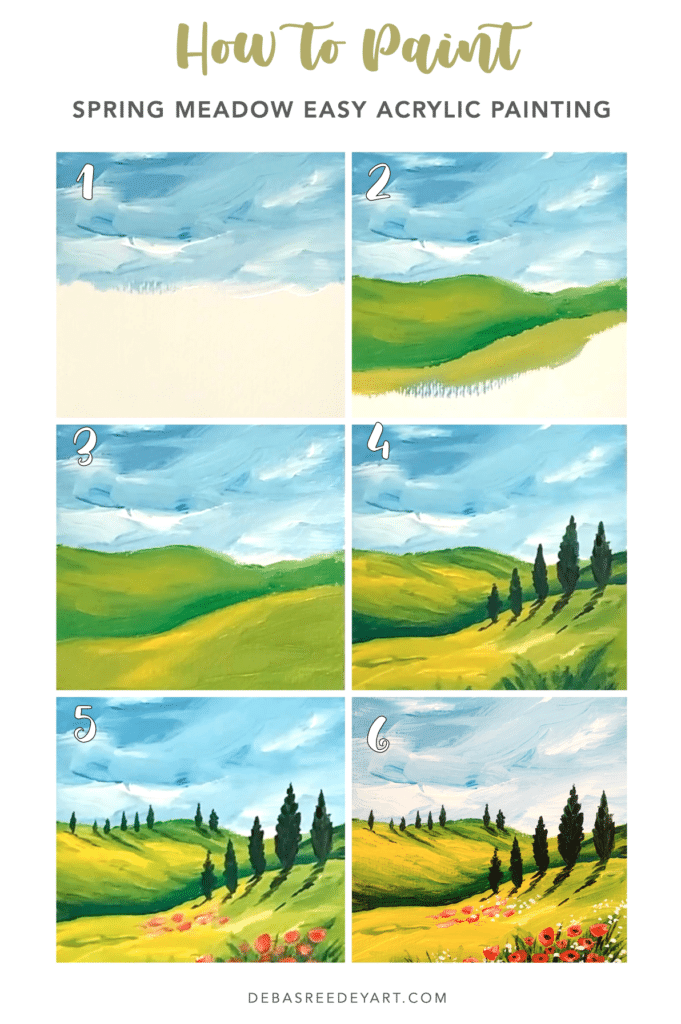 Start by blending blue and white to create the sky. I kept the brush marks visible to create abstractness in the sky, and not blend it in smoothly, because I love painting with brushstrokes. But if you are someone who likes to blend, you can create a smooth blend.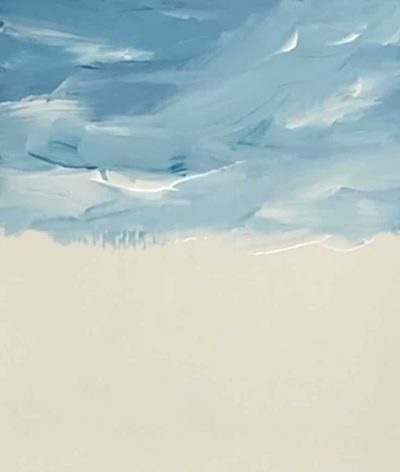 2
. Green Meadow - Layer 1
You can mark out the field lines in advance with a pencil, but I generally do it with my paint brush directly. So I created the lines first by mixing yellow with light olive green. Here I've blended the colors smoothly transitioning from yellowish green to brighter greens.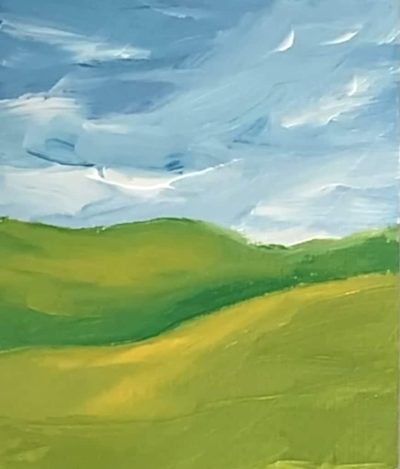 3. Green Meadow - Layer 2

Since I love brushmarks, I went over the field and added another layer with the yellows and greens to create some textures on my canvas.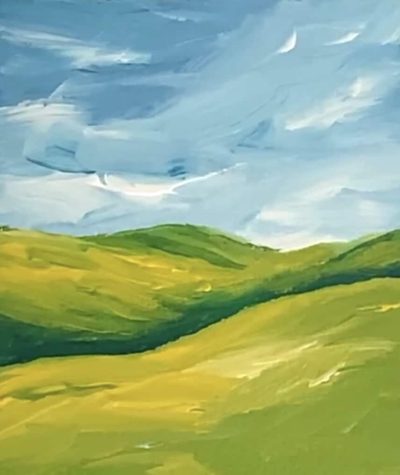 In the next step add the trees and their shadows. Make sure to keep the trees on the above line of the field smaller to show depth and distance in the landscape. Also add some grasses towards the bottom of the canvas, to give the flowers a base.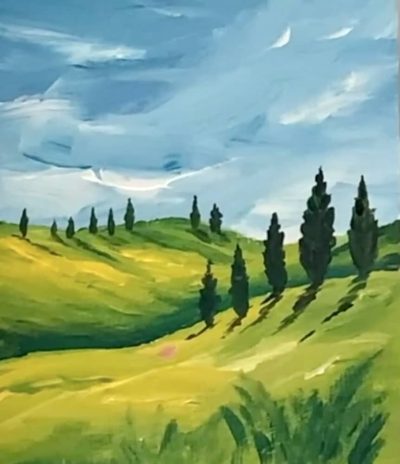 Mix the red with white and add them abstractly with the tip of your brush. I did not want to create prominent flowers, but the illusion of them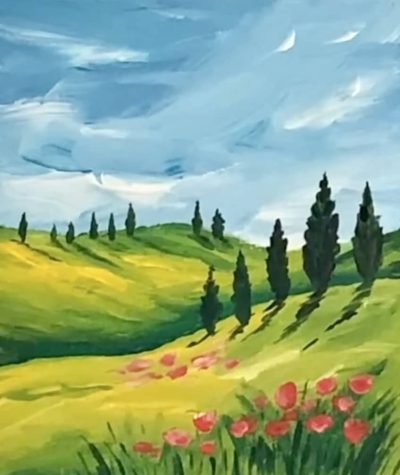 After the previous step dries, add the center of the flower with a dot of a dark shade. I mixed a bit of green and blue to create a darker shade. Vary the size of the dots in each flowers.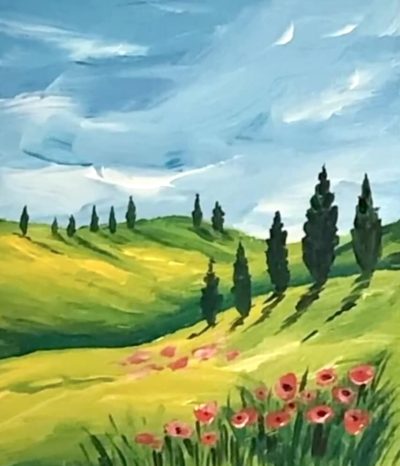 Finish off the painting by adding some white dots as white flowers. Spread it out unevenly across the red flowers.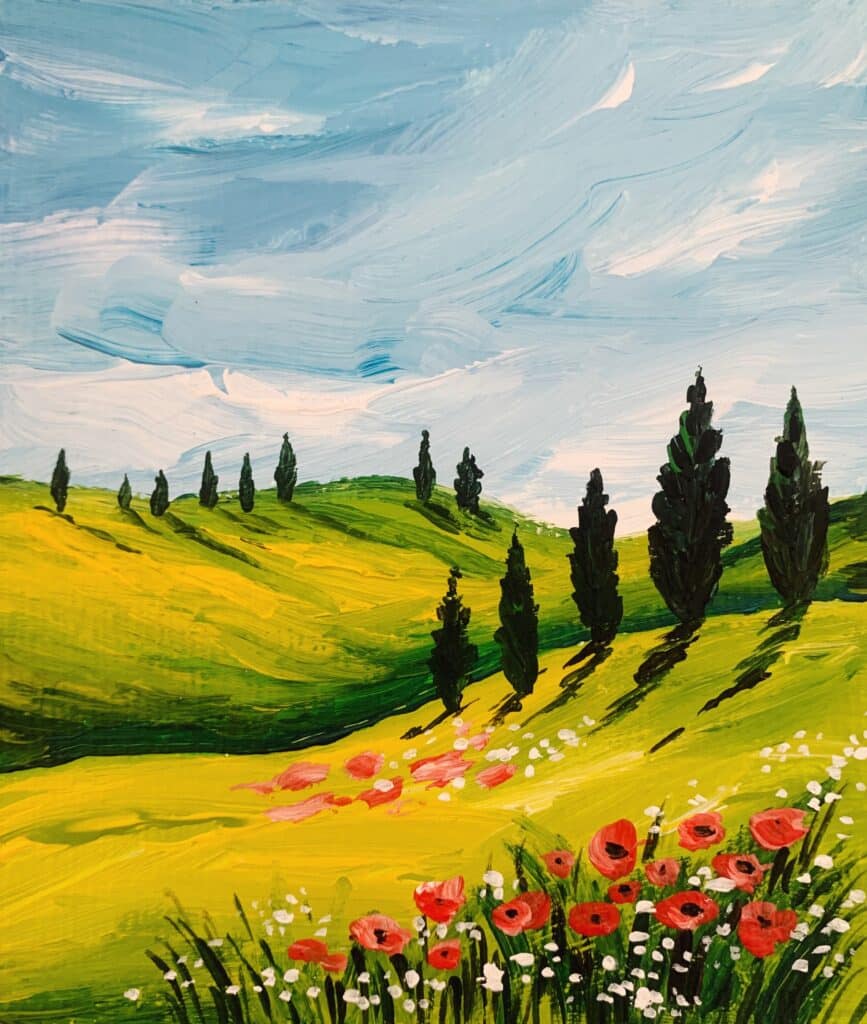 And that's it… just by following these 7 steps, you can now created your very own spring landscape painting with a flower field.

Did you enjoy following this tutorial? What is the next painting you want me to teach? Let me know how it turned out for you by commenting below!
Happy Painting!
Pin the below image in your Pinterest board for future reference.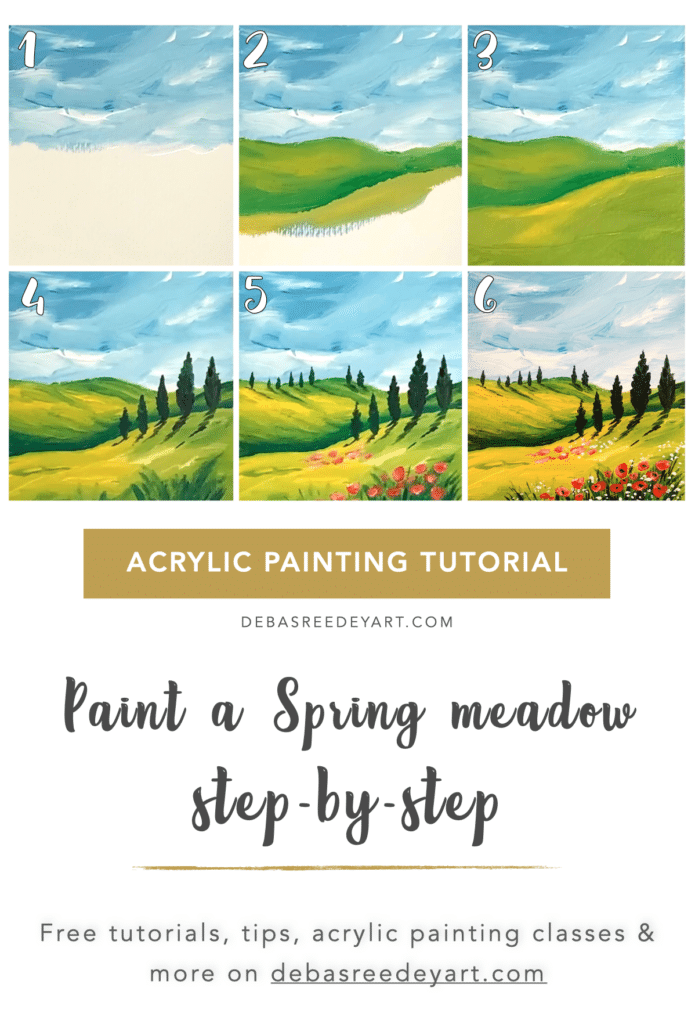 If you need more guidance, watch my process here: