Today I took a break from my 100 days of abstract landscape challenge and wanted to enjoy the Sunday relaxing with art and have a creative play date with the self. That is when Laura Horn Art's creative elements challenge popped up on my youtube feed and seeing her creative self, I got too inspired to take out my mixed media box, which I hadn't used in 5+ years.
I always loved mixed media but somehow I couldn't gather up the courage to play with them and create something out of my own creative energy. It just felt too daunting. But having the easy little prompts by Laura helped me get out of that fear and create something new!
I did both day 1 and day 2 challenges today.
For day 1, the prompt was Discover Your Personal Color Palette. And I ended up creating this collage spread using all the mixed media scrap papers I had been hoarding for a million years.
On the left side, I did an ocean-inspired collage, which is more of a blue and brown color combo. This is the color duo that has inspired me for the past 3 or 4 years and I created most of my landscape paintings involving these colors. 
I had stored some resin skin leftovers after filming my resin beach art class, which I used to add some beach vibe to the page.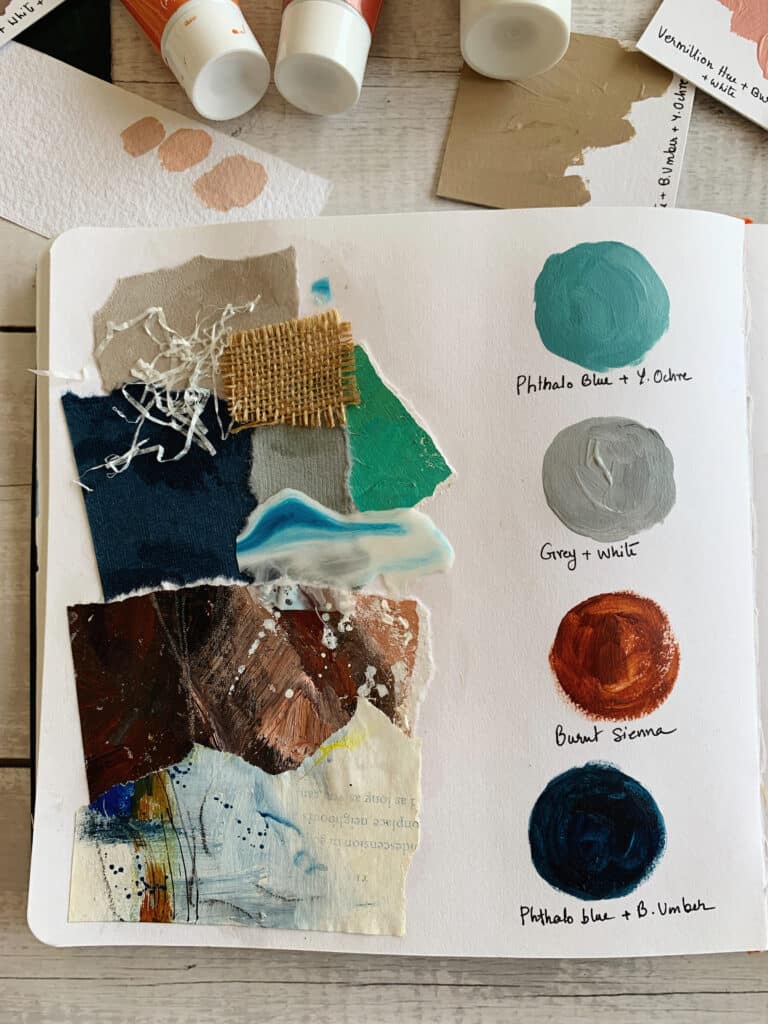 On the right side of the journal, I created a collage using some earthy colors. I was surprised to find these colored papers in my paper stash! This is the color palette that is inspiring me lately, in the last few months, and I'm using these colors in my recent abstract landscape paintings. It's mostly warm lighter shades, with almost no cool colors. 
Looks like as I transform on the inside, my color palette choices change from cool to warm!
Also if you notice, the left side is a bit messier than the right side. The right side has a more minimal look. Here I tried to portray the difference between the previous me vs the new me. The old me would go into too much detail and make a painting clumsy. The new me likes it minimal. So while spreading the right side collage, I had a lot more pieces than I actually glued. Even if I like being minimal, it's so difficult to resist adding more. And that is why I'm doing the abstract landscape challenge to practice adding less detail to the landscapes.
I so loved the process of tearing up the papers and placing them all together in a way that feels good to me. And then glued all the small pieces together using mod podge. I remember the last time I created a collage like this was in 2018 when I worked on a 2×2 ft canvas. Earlier when I did mixed media collages, I was always used to creating big pieces. And today for the first time, I painted on a small 8×8 inch journal (from menorah). The process of working on a small surface is an experience I totally cherished. And the best part, it got done in under 30 mins.
Ok then on to day 2's prompt – Easy BACKGROUNDS for Mixed Media Art
Using the same color palette from the first exercise, I had to create a background for mixed media art. So I took the colors I has used in the first exercise. Writing the name of the colors in the journal was extremely helpful because not only do I know the color recipes I love, it's easy to recreate them later.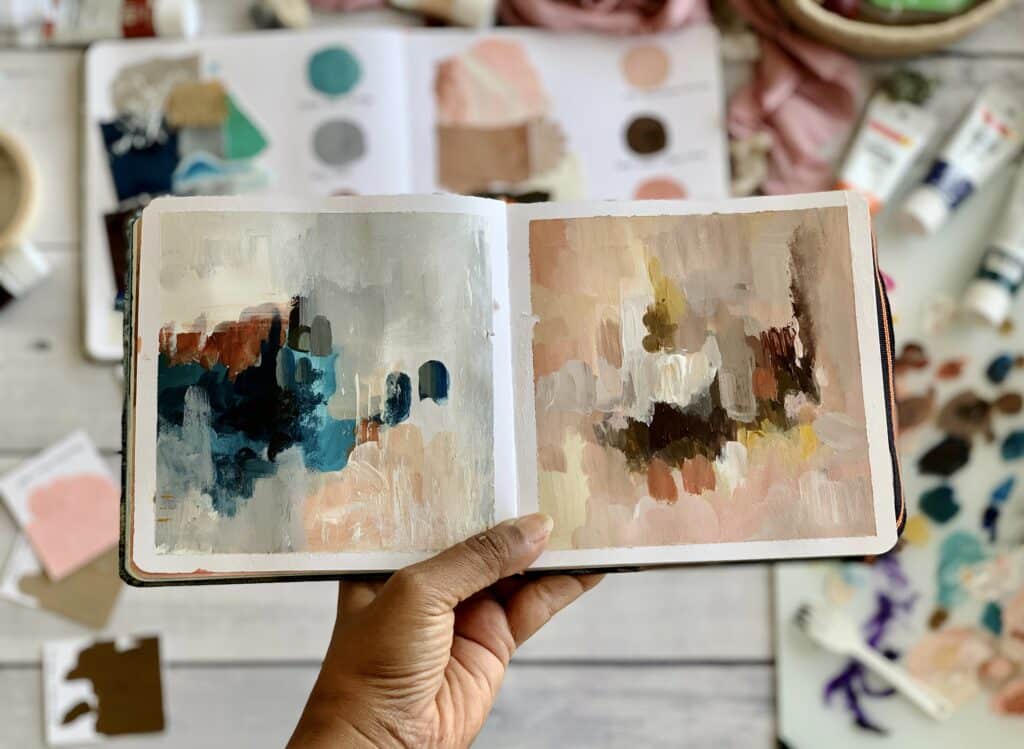 This one I did on a 5×5 inch square journal from menorah. Since it's so small, the whole spread got done in under 15 mins. Since the prompt said easy backgrounds, I had to stop myself from going overboard. Also, I have the habit of creating perfect masterpieces always, but today I actually wanted to have fun in the process. So I don't care if it looks good or bad, to me it looks satisfying – the color palettes, the strokes, few marks with my manicure brush and a fork! It was an experience of joy and calm and being in the moment.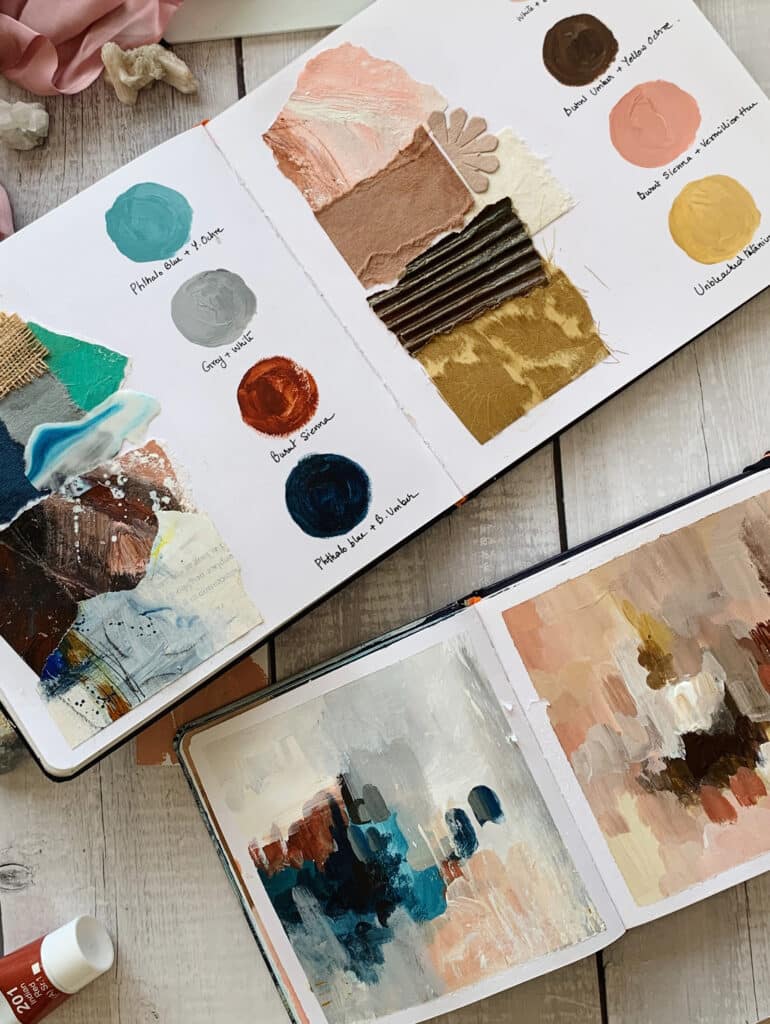 I couldn't dare film the process because it was a personal date with the Self. But I did take a ton of pictures after the process was over. I remember I stopped working with mixed media 5 years back because of the messiness afterward. And now I love the messiness. Maybe I'm able to embrace myself with the mess. Looking at the mess made me feel good and creative. So I clicked. And cleaning up the desk was equally satisfying.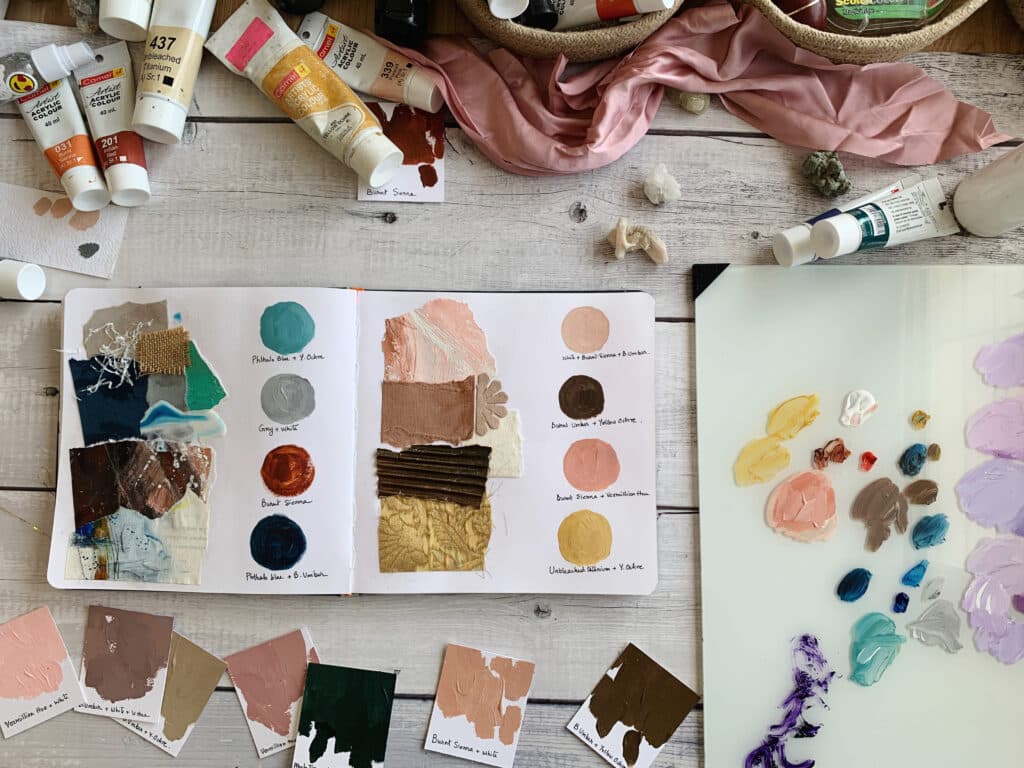 So I finished creating both the spreads and sat down to write my experience fresh! Thank you Laura for this challenge. You have inspired me to break down the fear of creative play.
Here is a final look at my messy table after all the adventure. Tell me if you can see beauty in it!
Some more clicks of the creative mess! Before cleaning up, I just kept clicking pictures looking at the desk! My table never looked this messy and I never felt this way!